Good gravy, what does a girl have to do in this town to get her blood mailed to Baltimore?
Now that Johns Hopkins has decided on my donor–my older sister–it reminds me of the saga of how the whole decision process got started, back last fall. Hopkins needed a blood sample. My mission: get the blood drawn and get it into Fed Ex.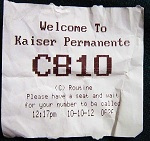 It all started off fine. Hopkins sent me a nice box with empty vials, instructions, and a prepaid Fed Ex medical sample shipment bag. Kaiser Permanente's lab told me (I'm 90% sure) that they could put my blood in Fed Ex for me after drawing it. I took the Metro down to their swank new Capitol Hill location at lunch one Wednesday last month. Kaiser's lab has a little ticket system with an electronic sign, like a high-tech deli, to tell you when the phlebotomist can see you now.
After drawing my blood, though, the phlebotomist said she couldn't Fed Ex it for me (in contrast to one of my sisters, who got told she could not under any circumstances take custody of her blood after it left her body). No problem—there's a Fed Ex/Kinko's on my way back to the office. I took the box there.
This is the point at which things became a wee bit trying. The Fed Ex folks said they couldn't take it because it was a medical sample, and said I had to go to a full-service branch—they said the closest one was out near Catholic U. Fortunately I checked this when I stopped by the office to rehydrate, and I found out that a) there was a full-service branch on I St. & 14th that would be much faster to get to, especially since b) the branch they sent me to *didn't exist anymore.*
After I shlepped 20 minutes each way to I Street, a competent helpful person took it, gave me a receipt, and told me there was no reason why the Keystone Kops at the Fed Ex near my office couldn't have taken it, as it was already in the right package.
For some reason, the whole thing was more upsetting in person than it seems now that I write about it. Maybe there's something visceral about carrying around your own blood, knowing that if it fails to get to Baltimore the next morning you're going to have to go get three *more* tubes taken out. At least they were little vial tubes, not the poster mailing tube my younger sister whimsically imagined when I told her what would be in her kit.
Glad I'm not a vampire. Blood transport is exhausting.
All blog content copyright © 2012-2014 E. Palmberg. Guaranteed 100% brave and freaking noble.