[The kind of white blood cells that are the body's first line of defense against infection are called neutrophils. I call them Phil, for short.]
Dear Phil,
You know, we've been through a lot together. For four decades, you've really looked out for me. When I first had cancer in 2005, and the chemo was getting to you, the nice doctors perked you right back up with Neulasta, and you even came back nice and fast after my autologous stem cell transplant. I've really appreciated it.
But now things have changed. I don't know whether it's the MDS or the side effects of the Vidaza, maybe both, but you've been getting more distant–real distant. It's happened silently, so much so I almost wouldn't have noticed you're not there, but the doctor says I have to wear a mask on the Metro, and not eat raw food except fruit I can wash really thoroughly, and take my temperature a couple times a day.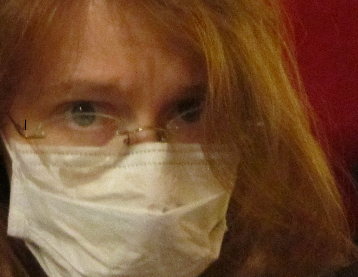 Friends kid that I should just get a single sequined glove to go with the surgical mask, but I have to face the truth: without you, Phil, I don't get around much anymore.
Sincerely,
Cherisheach
All blog content copyright © 2012-2014 E. Palmberg. Guaranteed 100% brave and freaking noble.