As, post-transplant, a single sunburn poses a small risk of actually killing me, I've been spending a lot of time gathering data about ultraviolet light. Indeed, I just sent away for UVA and UVB meters so I can get some hard data about just how much ultraviolet is around, and how well my expensive uv-screening shirts work–stay tuned.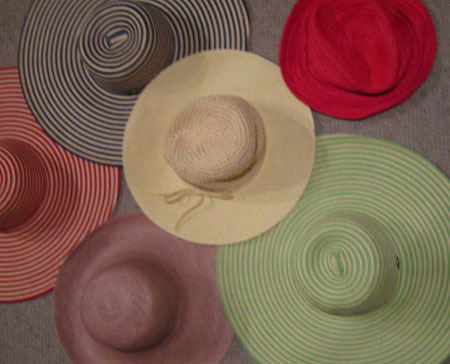 The one item that is a clear fashion win is a hat. Below are my favorites.
I haven't got my meters yet so I don't know the relative sun-busting merits of different hats, but I have tested these babies for how well they stick on my head. The results? Though the straw hat (brown one in lower left) looks classy, it blows off in the slightest breeze–the sunscreen effect is not so useful if you have to constantly put your hand on top of your head, as my hands (like so many people's these days) happen to be covered with skin.
The ones that stick on best are, according to the labels, made of paper–I would not have guessed this as they look like they're made of some kind of slightly-wigglier-than-usual straw. They are certainly not like the paper hats I folded for myself as a kid. However, now I know, so I cordially invite you to go buy yourself a paper hat. Great for sunscreen, staying cool, and having the Target checkout lady tell you you look "wicked." ("You know that was a compliment, right?" she asked. "Yes," I lied like a cheap rug.)
The three extra big stripey ones are all by the same maker,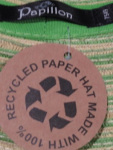 Papillon, and I got them from a street vendor at the Ballston metro stop ($12, bargained down to $20 for two). Saw the same thing in Union Station for $20. Really, I think it'd be worth it even at the higher price. One size fits my slightly-larger-than-average head nicely, so it might flop off the smaller-headed if they have a sleek hairstyle.
All blog content copyright © 2012-2014 E. Palmberg. Guaranteed 100% brave and freaking noble.